Now this is going to surprise EVERYONE!
The German youtubers from Nexmove made a real world range comparison between the Porsche Taycan Turbo vs. Tesla Model 3 (Long Range RWD version and lowered suspension).
Just recently the Environmental Protection Agency (EPA) certified the Porsche Taycan Turbo in December 2019 with a range of only 201 miles, or 323 kilometers. On paper, the Tesla Model 3 with an EPA range of 325 miles, or 523 kilometers, is clearly superior.
But the real world test on the Autobahn shows a different result. First let's check the test conditions: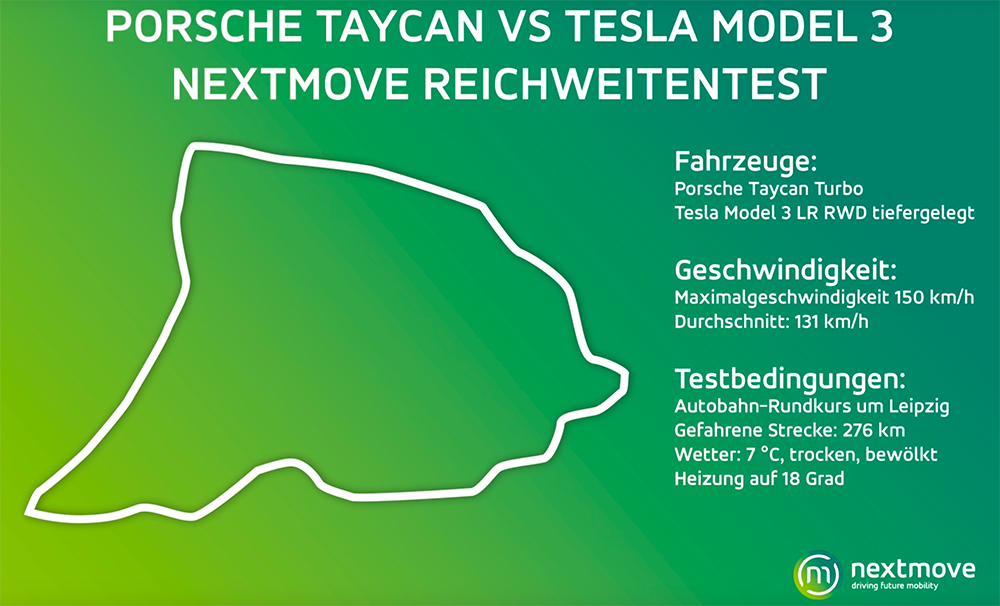 I speak German and therefore can translate for you 🙂
They drove for 276 km (171 miles) on the Autobahn with an average speed of 131 km/h (81 mph). Max speed at 150 km/h (93 mph). Heating was set at 18 degree Celsius (64,4 Fahrenheit) and the outside temperature was 7 degree Celsius (44,6 Fahrenheit)
Here are the results: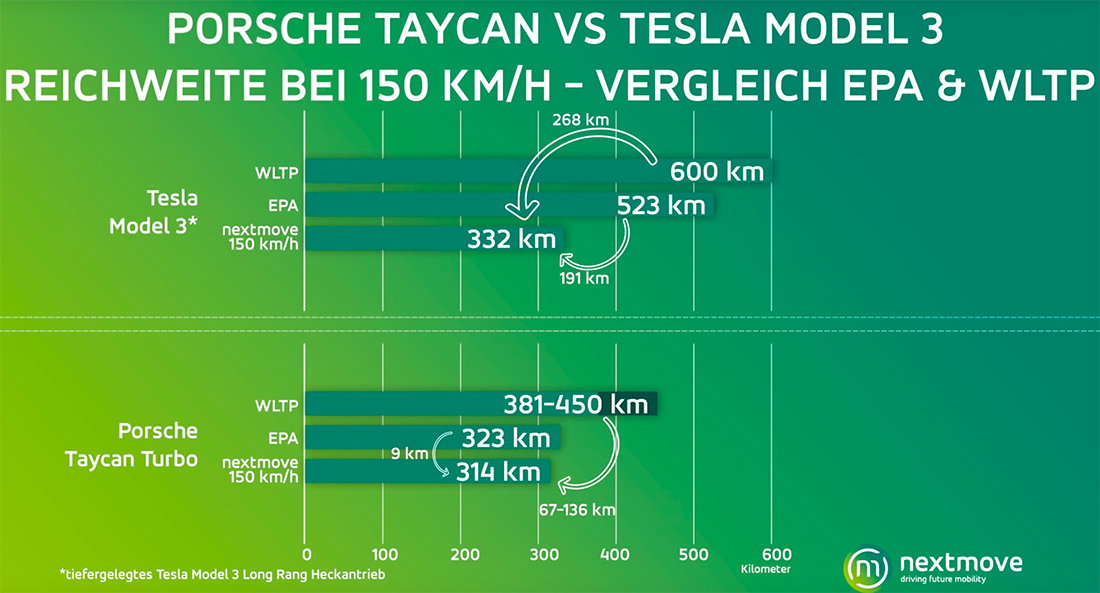 The Tesla Model 3 (Long Range AWD) had a real world range of 332km (206 miles) while the Porsche Taycan Turbo had a real world range of 314km (195 miles). On the graph above you can also see the WLTP and EPA estimates as a comparison.
Nextmove clarified that the Tesla 3 they tested was already 2 years old while the Taycan was a new model. Nextmove thinks the Tesla 3 therefore might has a 5% range drop because of that. Nextmove also thinks that the Tesla does a worse job than the Porsche in managing the battery in winter temperatures.
Before your fanboy instinct drives you crazy believe me when I say Nextmove is definitely a serious channel with serious reviewers. The guy is a big Tesla fan and if you watch the video you will realize how meticulous he was in this testing. Just activate the auto translated subtitles if you do not understand German:
I guess the "cheaper" Taycan 4S model with it's longer range would have probably matched the Tesla 3 range performance. I would also be curious to see how they would compare at more moderate temperatures. I guess the Tesla Model 3 would increase their advantage over the Porsche.
What's your take on nextmoves findings?