The public German agency "KraftfahrtBundesamt" released the official car sales data for the full year 2019. What impresses is the performance from Tesla: They managed to sell 462% more cars than the previous year 2018: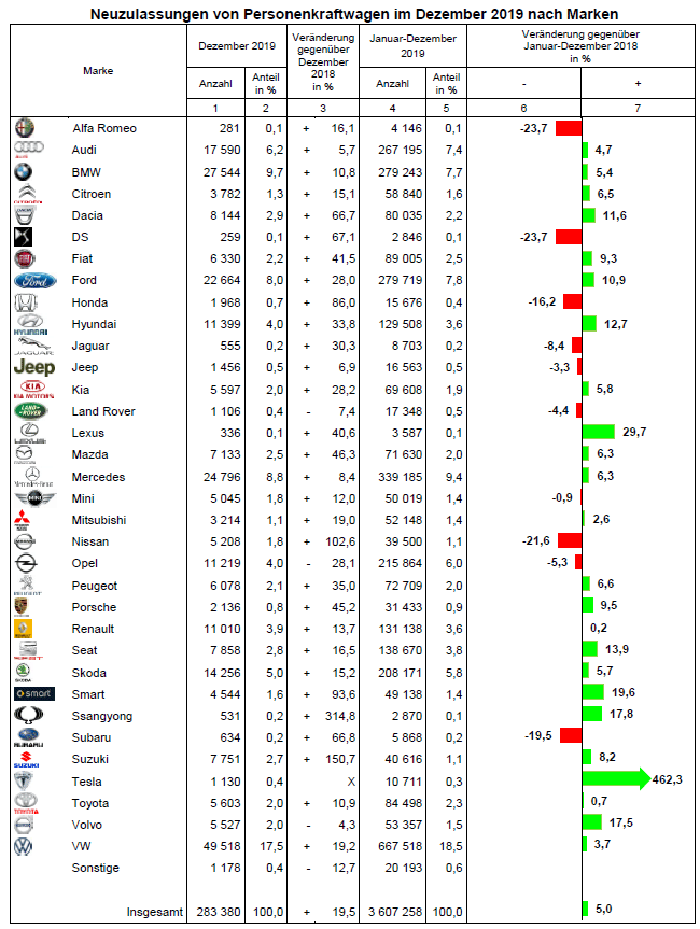 0,3% of all cars sold in 2019 were from Tesla. Yes, it still is a low number but it's three times more than a legendary brand like Alfa Romeo sold in 2019 (0,1%).
More general data released by the agency reveals:
Type of cars sold: SUV (21,1 %), Compact class cars (20,5%), Small cars (13,5%).
Gasoline cars account for 59% of sales (2018: 62,4 %). Diesel cars for 32,0% (2018: 32,3%). Hybrid for 6,6% (plug-in hybrids for 1,3 %). And electric cars for 1,8%.
SUV sales did grow by +21,0% and Offroaders by +20,3%
I guess the upcoming Model Y and future Pickup will exponentially increase the amount of cars sold by Tesla also because they perfectly fit in those areas growing the fastest (SUV and Offroaders).